Pipeline and platform M&A activity picking up in France and across Europe amid significant rising demand from strategic and financial investors chasing higher returns and looking to secure assets earlier
European developers must take advantage of the fierce competition and ensure they thoroughly demonstrate 'future value' of their pipelines
Paris, 29th September 2020 – With huge liquidity and continued fierce competition in the renewable energy sector, strategic investors and a growing number of financial investors are turning their attention to renewable energy development. In this environment, pipeline quality and experienced local development teams have become an essential requirement for ongoing success in the renewable energy space.
This is according to Augusta & Co. (Augusta), a specialist financial adviser to the renewable energy sector, which has highlighted that despite intense interest from potential buyers, the full value of pipelines is not always being realized and developers need to defend their experience and track record to demonstrate future value.
This theme is explored further in Augusta's briefing 'Future Value: Unlocking the value of French development pipelines', released today.
Driven by high market stability, a €100bn post-Covid economic stimulus package and low yielding traditional infrastructure assets, France is a particularly attractive market for international investors, leading to a spree of recent renewables platform acquisitions. Concurrently, the aggressive acquisition strategies of major utilities and oil majors across Europe have further increased demand for high quality pipelines.
Investor concerns over the quality of platforms – whether they can demonstrate success in bringing project pipelines to fruition – remains, and should be well addressed to maximize value and take advantage of the exceptionally strong appetite for the French market currently.
Augusta, which has extensive sell-side experience in European platform and pipeline sales, has emphasised that developers in France must capitalise on investor appetite and effectively demonstrate the future value of their pipelines.
Much of a pipeline's inherent value depends on future project and market assumptions – including future capture prices, subsidy price and expected asset life. A track record of underdeveloped pipeline projects may indicate a lack of quality within project development teams, and developers must leverage local relationships, alongside in-depth project knowledge to demonstrate that they can maximise the success rate of projects.
James Knight, Partner at Augusta & Co., said: "High levels of demand for renewable assets has led strategic and financial investors to adopt bolder platform acquisition strategies. Quality renewable energy pipelines, with proven development teams and critical mass in their chosen market are achieving record interest. There is a clear opportunity to take advantage of this appetite."
Romane Guitard, Managing Director at Augusta & Co., said: "Development teams looking to sell their pipelines must demonstrate the quality of their future projects and provide a strong track record of project development, along with a comprehensive overview of platform and market assumptions to keep investors interested. The more effectively this can be done, the greater the value that can be unlocked."
Augusta has a proven track record selling large development platforms across Europe with its international investor base a key factor in closing a number of recent platform and pipeline deals, including the sale of Forsa Energy's UK wind platform and Eurocape New Energy's mixed-stage wind and solar portfolio in 2019, 4Energia and Epuron in 2018 and Velocita's French onshore wind development business and pipeline in 2016.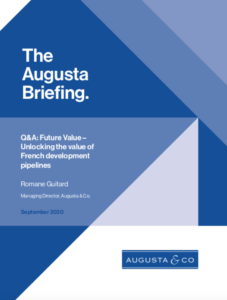 With a native French team Augusta is particularly well-placed to introduce French developers to international investors and provides advice on M&As, corporate PPAs and debt financing.
For more information on platform acquisitions, please read Romane's full Q&A piece here.